LOCAL AUTHORITY WASTE CONTAINER RECYCLING
Moulding solutions recycles in excess of 200,000 wheeled bins per annum, along with other plastic waste container such as caddies and kerb side boxes.
We pride ourselves in having the simplest yet most efficient collection service for Local Authorities. All we ask is that prior to collection the bins have been emptied of any waste. Contact us and provide us with site details and we will do all the work.
There are NO TRANSPORT COSTS to you.
Here at Moulding Solutions we are aware that all councils have different needs therefore we can tailor our service to meet them. Nothing is too much trouble and we will gladly go above and beyond to provide you with an excellent service.
COLLECTIONS
Collections are carried out using our own vehicles. We have a large fleet of vehicles ranging in a variety of different sizes to accommodate what quantity of containers need to be collected.
Another huge benefit of having a varied fleet is that we can supply customers with our services as we are fully aware that some depots have limited space and restricted access.
HOW MANY BINS CAN WE COLLECT?
Here's the good news we can carry out a collection when there are as little as 50 bins. For the smaller depot's this works great as it helps to free up your valuable storage space.
At the other end of the scale we have vehicles that can collect up to 700 bins in one collection.
With Moulding Solution's the focus is on the customer and meeting their needs and providing a tailor made service to each client.
What will we pay you for your end of life wheeled bins?
We pay a competitive price on wheeled bins and will offer you our best price we can dependent on volume and location.
Also from receipt of invoice we aim to pay within no more than 30 days.
What about wheels and axles?
Let us guess, everybody is interested in recycling your bins but you are left with a vast amount of wheels and axles in your depot.
Good News. Here at Moulding solutions if you choose us to assist you with the recycling of your wheeled bins we will remove the wheels and axles as part of the service.
And yes……. they are also RECYCLED.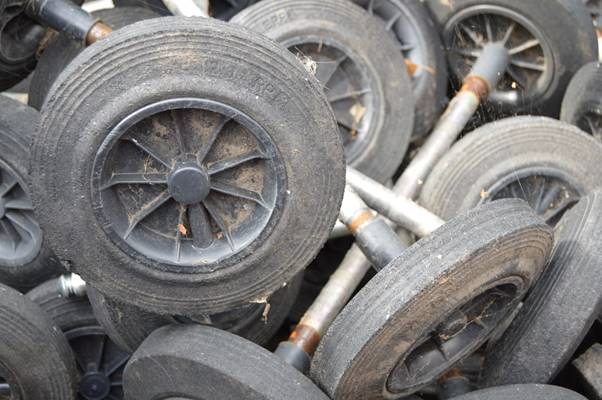 What do we do with the end of life wheelie bins?
Once the bins have been collected they are taken to our factory in Rotherham where they are checked prior to feeding them into one our granulation machines. The chip is then processed through our own design wash plant prior to blending and compounding into a new pellet for supply to the manufacturing industry for the production of a variety of containers and transit packaging through to new wheeled bins.
COLLECTION OF END OF LIFE WHEELED BINS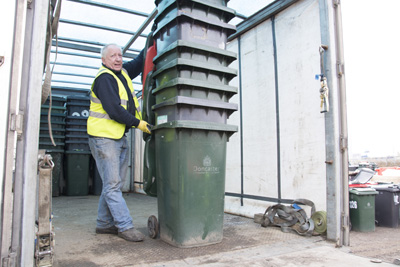 WHEELIE BIN FED INTO GRANULATION MACHINE
RESULTANT CHIP AFTER BEING PROCESSED THROUGH THE GRANULATOR
Please look at our service page in the drop down menu for details about our de-wheeling and street collection service.